Second World War veterans have train named after them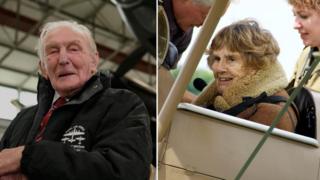 Two Second World War veterans have been honoured by a train being named after them.
The train features the names of Spitfire pilot Joy Lofthouse and the last British survivor of the Dambusters raid, George 'Johnny' Johnson.
Great Western Railway (GWR) unveiled the names to mark 100 years of the RAF and 75 years since the Dambusters.
Mr Johnson said: "To know what we did all those years ago is still recognised in this way is a great tribute."
He added: "We were a group of young men doing our duty."
Ms Lofthouse, from Cirencester in Gloucestershire, was one of 166 female pilots to fly for the Air Transport Auxiliary (ATA). She died in 2017 aged 94.
Mr Johnson, 95, was awarded the MBE last November following a long-running campaign.
The pensioner, who now lives in Bristol, is now one of only two survivors to take part in the legendary bombing raids on the Mohne, Eder and Sorpe dams in Germany.
On the new train, Mr Johnson's name sits beside a formation of 19 Lancaster bombers, separated into the three groups that carried out the mission.
Next to Mrs Lofthouse's name is the shape of a Spitfire.
Her daughter, Lyn Hartman, said: "I think my mother would have been proud of the honour of having a train named after her."