Bristol Arena project 'can be delivered on budget'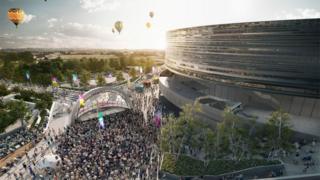 A construction firm has insisted it can build an arena in Bristol city centre on budget for £123m, despite a report estimating it will cost £156m.
The value-for-money assessment commissioned by the city council also found the Temple Island scheme would be cheaper at an alternative site.
However builders Buckingham Group said it was "very confident" it can deliver the arena for the approved budget.
The project, first mooted in 2003, has been beset by delays and rising costs.
Speaking at a Bristol City Council scrutiny meeting, Buckingham Group director Oran McCloskey dismissed the reports by accountants KPMG and said: "We have set a target cost that we will come under, or we will lose money.
"This is the exact type of project for us, so why would we set a target cost where we would exceed it and lose money.
"We are very confident that we understand how to build this project and we understand all the significant risks."
Bristol mayor Marvin Rees said if Buckingham Group says it "can build an arena for 15% less than the £123m price previously quoted" and with no risk of exceeding the target cost then "they need to put this new contract on the table today for me to consider".
He is expected to make a final decision on the location of the arena at the next council cabinet meeting on 3 July.
The proposal to build a 12,000-seat venue in the city centre, next to Temple Meads railway station, was "paused" last November when Mr Rees asked for the value-for-money review.
The review found a mixed-use of the Temple Island site - such as houses, shops, a hotel and conference centre - would generate about £875m and create more than 2,000 jobs over 25 years.
An alternative site has been offered at Filton, which would be funded by its Malaysian owners YTL Developments.
The company said it will build a 16,000 seat arena at the former Brabazon hangar but stated it would require new transport links, estimated to cost about £50m, which the council would need to fund.