Bristol student death: Father calls for data law change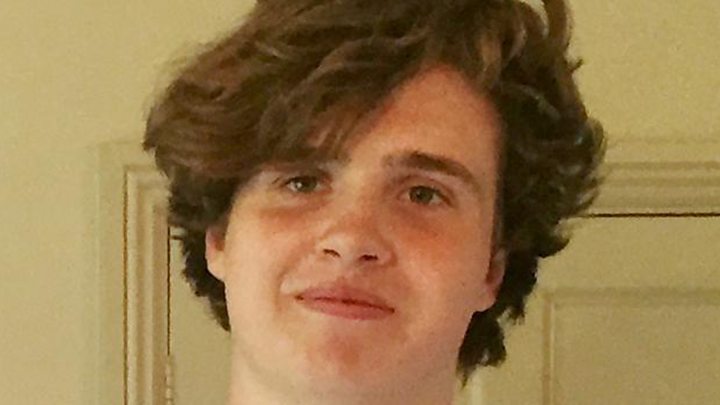 The father of a University of Bristol student who took his own life wants data protection rules changed to prevent further deaths at universities.
Ben Murray, 19, died in May and was the 10th Bristol student to take their life in the last two years.
His father James Murray is now calling for the rules to be relaxed so parents can be told if students are struggling.
The university said it was considering an "opt-in" for next of kin to be told of a "major concern about wellbeing".
The teenager, who was studying English, was described as having a "brilliant mind".
He achieved straight As at GCSE, enjoyed sports and was "loved by all his friends and family"- who had no idea he was suffering from anxiety - his father said.
"Ben told us at the end of the first term at Bristol University he was enjoying himself and to all intents and purposes he seemed to be having a good time," Mr Murray told BBC Radio 5 Live's Anna Foster.
But on the morning of his death, he met his father for lunch and spoke of "bottling up his feelings and thoughts".
"It was a lovely lunch. He started by saying he'd wished he'd been more open which at the time seemed like he was opening up about his thoughts and feelings," his father said.
"But there was no sign at all - nothing at all."
It was only after his death the family discovered Ben had been falling behind in his studies, missing lectures and was days away from "being removed from the university".
"He was carrying a lot of pain and anxiety for six months and wasn't telling us what was going on," Mr Murray said.
"Now the more questions you ask, the more opportunities you see for intervention and the more distressed you become."
Mr Murray said the university had "been very open" with the family since their son's death but had followed the data privacy rules while he was studying there.
"Having gone through all the different moments when we could have intervened to save our son's life, it's absolute nonsense that you would look at an issue and say: 'You're an adult therefore data privacy applies'," he said.
"Data privacy that may cause the vulnerable to lose their lives makes no sense at all."
Mr Murray is calling for the rules to be relaxed or changed to "allow universities to communicate more openly" and wants tutors to be more accountable for wellbeing, as well as academic success.
"Tutors are the front line in terms of dealing with students," he said.
"They have the first early warning signs of something being wrong so they need to be held accountable."
'Opt-in contract'
In a statement, Bristol University said student mental health and wellbeing was the "single biggest challenge the higher education sector faces".
"As a university we are taking every step we can, working with our students, staff, and health partners to ensure our community is as safe and supportive as we can possibly make it," it said.
"Our vice-chancellor has met with Ben's father and we are actively working with his, and other parents, as part of our plans to create a structure of preventative services and policies that avoids our students reaching crisis point.
"This includes implementing an 'opt-in' contract with our students which would enable contact with nominated next of kin if we had a major concern about their wellbeing."
The most up-to-date statistics show 146 students killed themselves in 2016.