Bristol Airport flight axed over 'disruptive' passengers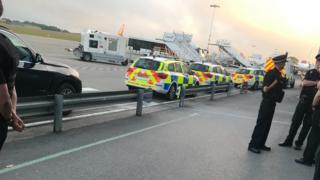 A flight was cancelled and a man arrested after "disruptive" passengers treated a plane like "a nightclub".
A Bristol-to-Prague Easyjet flight with more than 140 on board was delayed and eventually cancelled on Friday night.
Avon and Somerset Police said a 32-year-old Merthyr Tydfil man was arrested for a public order offence and released under investigation.
Easyjet said it did not tolerate abusive behaviour and will "always push for prosecution".
A Bristol Airport spokesperson said the "disappointing behaviour of a few" had ruined a flight "not just for their mates but for the 140 plus whose flight was cancelled as a result of their follow-up actions".
They added: "It's an aircraft, not a nightclub."
Easyjet said its crew had done "everything possible to minimise the disruption" for its remaining passengers.
A spokesperson said: "Easyjet was required to cancel flight EZY6267 from Bristol to Prague on Friday due to a group of passengers behaving disruptively on board which caused a delay.
"Whilst such incidents are rare, we take them very seriously, do not tolerate abusive or threatening behaviour on board and always push for prosecution."
The airline said passengers were given the option of transferring their flight free of charge or receiving a refund. Hotel accommodation and meals were also provided.
You may also be interested in
Travel journalist Simon Calder said the "culture of drinking at airports" has to be tackled.
"I don't think it's too excessive to have a breathalyzer at the gate," he said.
"The last thing you want on a plane, if there's an emergency evacuation, is somebody next to you who can't stand straight."