'Taser' victim can testify against Bristol police officer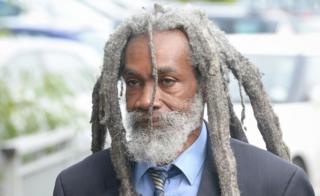 A police officer accused of shooting a race relations adviser in the face with a Taser has failed in a bid to stop him giving evidence in court.
Lawyers defending PC Claire Boddie argued that Judah Adunbi's testimony was "irrelevant" as the incident was captured on her body-worn camera.
A judge refused the application at Westminster Magistrates' Court.
PC Boddie, 47, who works for Avon and Somerset Police, denies assault by beating and faces trial on Friday.
The case will take place at Salisbury Magistrates' Court.
Mr Adunbi, 64, was allegedly hit in the face with a Taser in Colston Road, Easton area on 14 January 2017.
At the time a video of the incident was widely shared on social media.
PC Boddie's lawyer Richard Shepherd had also argued that a bystander's account should not be permitted as evidence.
He said: "The sole issue in the case is the officer's perception of what happened and whether she acted in a reasonable way or not."
Prosecutor Richard Posner argued that witness evidence and footage showing different camera angles should be included in the trial, calling the defence application an "attempt to sanitise" the prosecution case.
Mr Posner told the judge Mr Adunbi had denied being the person the officers thought he was and their body cameras were only activated as they started following him.
Refusing the defence application, District Judge Tan Ikram ruled that the video footage was admissible and will be shown in court on Friday.
He said: "The prosecution case is Mr Adunbi was the victim of an assault. I will have to hear from him to see what he has to say.
"He potentially gives relevant evidence because he was there, he has a perspective of what happened."
Mr Adunbi is a former member of the Independent Advisory Group to Avon and Somerset Police.