Weston maternity unit closes overnight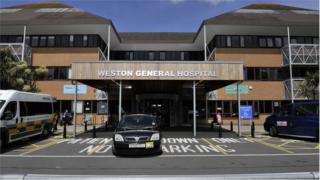 Maternity services at Weston General Hospital have closed overnight temporarily due to too few midwives.
Women about to give birth between 22:00 and 08:00 will have to call ahead to see if an on-call midwife is available, or face travelling to Bristol.
The hospital's A&E service has been closed overnight since July 2017 due to staff shortages.
Director of nursing Sarah Dodds denied the move spelt the death knell for maternity services.
Ms Dodds said the hospital was trying to recruit 10 more midwives to deal with a vacancy rate of 35%.
There are currently three midwives available on-call overnight.
"We want to continue to provide the level of service that we've always provided, whereby if a mother does want to deliver here then they can have that opportunity, or equally have a homebirth," she said.
There were 245 babies delivered at Weston in 2014/15. This figure had fallen to 143 in 2017/18.
Ms Dodds said this was down to more women needing care at larger hospitals in Bristol.
In January, plans were unveiled to merge University Hospitals Bristol NHS Foundation Trust (UHBT) with Weston Area Health NHS Trust (WAHT), which runs Weston General.
The merger could take place in spring 2019 and Weston's MP John Penrose said it was a "big step" towards solving the closure.