South Bristol Sports Centre fire 'massive loss' to community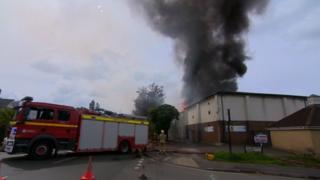 A leisure centre damaged in a fire has been described as a "massive loss" for the local community.
About 40 people were evacuated from South Bristol Sports Centre, in Hengrove, when a fire broke out at 12:20 BST on Saturday.
Luke Gazzard, from Avon and Fire Rescue Service, said it was "a real big resource for south Bristol."
The centre, which is used by about 4,000 people each week, will attempt to get the site "back up and running".
Avon Fire and Rescue said the cause was "currently unknown and will be investigated".
Mr Gazzard said: "It's a real big resource for south Bristol. Lots and lots of people use it, it's used every day of the week.
"So we're going to try to finish our business here as soon as possible, so they can attempt to get back to business in some parts of the building.
"I know a lot of our members within the service use this building as well for social reasons."
South Bristol Sports Centre director Ben Ferris said he was "thankful" everybody made it out safely and praised his staff for the way they handled the evacuation.
He said: "It's horrible to see part of this lovely building go up like that, that so many people use on a daily basis.
"We'll see how things go in the next week or so. It's going to have a dramatic impact and it's a real shame but we'll work really hard to get it back up and running as quickly as we can."
Julie, who lives nearby, said the sports centre was "massively well used" and that her son uses it for school, holiday clubs and sport.
She said: "It's such a shame. Hopefully nobody was injured but we didn't see any ambulances."
Sam was doing a FA coaching course when the fire started.
She said: "Everybody in this area uses the facility so it will be a massive loss.
"Hopefully they can save the clubhouse but it's just quite sad, because like I say everybody uses it. My son uses it for his football. Hopefully they can save something of it."