Bristol acid attack accused 'brazenly lied' about anger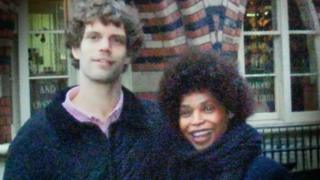 A woman accused of throwing acid over her former partner "brazenly lied" in claims she did not get angry, a court has been told.
Berlinah Wallace, 48, denies murder and applying a corrosive fluid to Mark van Dongen, 29, in Bristol in 2015.
He was granted euthanasia and died in a Belgian hospital 15 months later.
In his closing speech, prosecutor Adam Vaitilingam QC told Bristol Crown Court Ms Wallace was lying when she said she only ever got angry about her family.
"Berlinah Wallace is lying to you, quite brazenly, about something that was so obvious", Mr Vaitilingam said.
Mr Vaitilingam said the defendant also lied when she suggested Mr van Dongen was aware there was acid in the glass that was thrown over him and when she said she did not search online for "sulphuric acid" when she bought a bottle of it.
Previously, Ms Wallace told the court she believed she was throwing water at her former partner during an argument, and did not realise it was acid in the glass.
In closing remarks Richard Smith QC, for the defence, said Mr van Dongen was a man who "had a life" and was "not about to die" when he chose to end his life.
"The person who took the life of Mark van Dongen is an unnamed, unidentified doctor in Belgium," said Mr Smith.
"What happened to [Mr van Dongen] in Belgium would be a criminal offence in this country.
"Here, if a doctor had inserted a catheter into his heart and killed him, he would've murdered him. He would be sat in the dock.
"This wasn't a man who was in flames, about to die. This was a man who had a life, had a choice."
Mr van Dongen was left paralysed from the neck down and lost his left leg, ear and eye following the alleged attack, and ended his own life in a Belgian hospital in January 2017.
The trial continues.