Acid attack: Accused 'read 82 articles on acid attacks'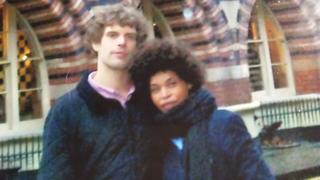 A woman accused of throwing acid over her former partner said it was a coincidence that she looked at articles about acid attacks days before, Bristol Crown Court has heard.
Berlinah Wallace, 48, denies murder and applying a corrosive fluid to Mark van Dongen, 29, in Bristol in 2015.
He was granted euthanasia and died in a Belgian hospital 15 months later.
Ms Wallace said she clicked on images of acid attacks "out of curiosity" but had not read the stories.
Under cross-examination from prosecutor Adam Vaitilingam QC, Ms Wallace said she bought a bottle of sulphuric acid online, in order to clear smelly drains in her flat.
Mr Vaitilingam told the court Ms Wallace had clicked on 82 online articles about acid attacks, days before the alleged attack on 23 September 2015.
She said she did not read the articles, but "just looked at pictures".
Mr Vaitilingam asked why she was "so fascinated" by stories about acid attacks and people drinking acid.
"I just saw pictures, just to look," she replied.
"What was so fascinating about those pictures?"
"Just curiosity," she said.
"Your account to the jury is it's just a coincidence that within a matter of days you were to throw sulphuric acid into Mark's face?" Mr Vaitilingam asked.
"Just coincidence and bad luck," the defendant replied.
Previously Ms Wallace told the court she believed she was throwing water at her former partner during an argument, and did not realise it was acid in the glass.
She said it was just a "coincidence" that she bought acid on the day her former partner told her to leave him alone.
Mr van Dongen was left paralysed from the neck down and lost his left leg, ear and eye following the alleged attack, and ended his own life in a Belgian hospital in January 2017.
The trial continues.