Acid murder trial: Accused in 'prostitution secret' threat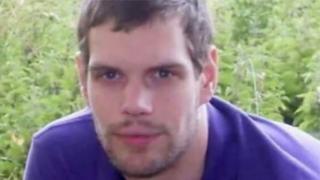 A woman accused of throwing acid over her former partner threatened to tell his new girlfriend he had worked as a prostitute, a court has heard.
Berlinah Wallace, 48, denies murder and applying a corrosive fluid to Mark van Dongen, 29, in Bristol in 2015.
He ended his life in a Belgian euthanasia clinic 15 months later.
Ms Wallace told Bristol Crown Court she had threatened to reveal his past because she was worried about how she would pay for her flat if he left.
She said Mr van Dongen told her he had been a prostitute in the Netherlands, aged 15, after being kicked out of home.
She told the court: "I was saying, if he doesn't help me I'm going to tell about him."
The court heard Ms Wallace had bought the acid, on Mr van Dongen's advice, to cure smelly drains.
When asked about searches on her web history about drinking sulphuric acid, she told the court: "I was in and out of suicidal mode. I was thinking Mark wanted me to kill myself... so I just wanted to see what I have in the house and if somebody drinks it, what happens to them."
The court heard Mr van Dongen had been racist and violent during their five-year relationship.
Ms Wallace said they met on a dating website for people with HIV and, after his second visit to Bristol from the Netherlands, "he never left".
Jurors heard, on one occasion, Mr van Dongen was arrested after he kicked Ms Wallace in the back and hit her in the head.
She said, in another incident in the Netherlands, he pulled her out of the shower and pushed her naked into the street.
Suicide attempts
Ms Wallace, originally from South Africa, said she attempted an overdose in August 2015 when Mr van Dongen returned to pack his things after he began seeing another woman.
She said he dialled 999 but she was unable to swallow the pills - used to control her HIV - because they were too big.
She told the jury that on 3 September 2015 she became upset after Mr van Dongen reported her to police "saying I was stalking him when I was not".
Defence barrister Richard Smith said she was later admitted to Bristol Royal Infirmary, having taken an overdose.
He said, despite being told not to contact Mr van Dongen, within five days the pair had met and were making phone calls to each other.
Earlier in the trial, Ms Wallace told the court she had mistakenly thought the corrosive fluid she threw at Mr van Dongen was water which he had handed to her in a cup in a bid to kill her.
Mr van Dongen was left paralysed from the neck down and lost his left leg, ear and eye following the alleged attack on 23 September 2015.
The trial continues.