Acid murder trial: Accused 'thought it was water'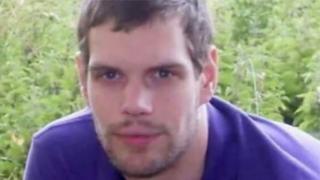 A woman accused of throwing acid over her former partner told police he had put the acid in her cup and pretended it was water, a court has heard.
Berlinah Wallace, 48, denies murder and applying a corrosive fluid to Mark van Dongen in Bristol in 2015.
Bristol Crown Court heard the 29-year-old ended his life in a Belgian euthanasia clinic 15 months later.
Ms Wallace told police she was "scared" of him but was "shocked" he had hated her so much he had wanted to kill her.
Mark van Dongen, was left paralysed from the neck down and lost his left leg, ear and eye following the attack in September 2015.
In the police interview, Ms Wallace told police she had bought the sulphuric acid online on Mr van Dongen's advice to deal with a bad smell coming from pipes in her flat.
She said they had been "partners for nearly five years" and had been "trying to work things out" following a break-up.
The court heard she had confronted him after discovering he was seeing another woman.
Ms Wallace said he grabbed her and assaulted her as she tried to leave her flat in Westbury Park when she "lost it" and "took the glass" and threw it at him.
She said she thought it was "my water he gave me" and "didn't know what it was" until Mr van Dongen said "you threw acid on me".
"Everything went blank. I was panicky. I was thinking loads of things in my mind, like why would you put that in my cup," she told officers.
"I'm shocked he wanted to really kill me. He hated me that much. I'm really shocked about the whole thing."
'Silent phone calls'
The court also heard from Violet Farquharson, Mr van Dongen's new girlfriend who he had moved in with, who had received 14 "silent phone calls" from Ms Wallace.
It heard the Dutch engineer had texted her warning her that Ms Wallace had hacked his email and not to use it.
Ms Farquharson, told the court she visited him almost everyday in hospital but it was months before there was any "verbal communication".
"He said he was woken up and she said to him something along the lines of: "If I can't have you no-one else can" and then she laughed at him and threw the acid," she said.
"He was extremely distressed. He was in terrific pain. He said he wanted to die, basically."
The trial continues.