Bristol City Council invests £6.7m in own energy firm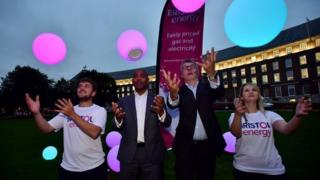 A council says it has increased investment in its own energy firm by £6.7m since November.
Bristol City Council set up Bristol Energy in 2016 and in the last five months its stake has risen from £17.3m to more than £24m.
The firm posted an £8.4m loss last year and lost the council contract to British Gas.
A Bristol Energy spokesperson said the investment will be paid back "with interest".
The firm, which recently started offering customers gas made from human waste, was created to reinvest its profits back into the community as a "force for social good".
Last year, it revised its original business plan after customer take-up was lower than expected, saying it would become profitable in 2021 - two years later than first forecast.
'Fuel poverty'
A spokesperson said: "We were set up to challenge the bigger players in the market by offering people a fair deal.
"We're saving Bristol residents £220 a year on their bills. And we're working with local charities to help tackle fuel poverty, which currently affects people in one in every eight Bristol homes."
Earlier this week, Bristol Energy boss Peter Haigh said British Gas had "marginally undercut us on the council contract".
The council said it had no choice but to follow strict procurement rules.
But Green leader, councillor Eleanor Combley, said the authority was also obliged to "consider the social value of its contracts".
"I find it hard to believe that one of the 'Big Six' energy companies is really a better option than using a company whose profits are ploughed back into Bristol's local communities," she said.