Mark van Dongen acid attack accused 'had screw loose'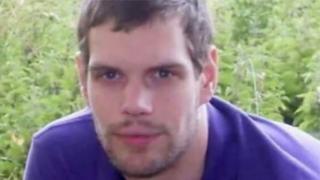 A woman accused of throwing acid over her former partner was "often violent towards him" and "had a screw loose", a court has heard.
Berlinah Wallace, 48, denies murder and applying a corrosive fluid to Mark van Dongen in Bristol in 2015.
Co-workers of Mr van Dongen told Bristol Crown Court he had met her on a dating website and they had sex.
After learning Ms Wallace was pregnant "he did the decent thing" and moved in with her at her flat in Bristol.
Mr van Dongen, 29, was left paralysed from the neck down and lost his left leg, ear and eye following the attack in September 2015.
He ended his life in a Belgian euthanasia clinic 15 months later.
'Often violent'
Colin Evans, a construction site manager, described Mr van Dongen as a "polite" and "strong" man who "got on with the job".
"After a few months she told him she'd had a miscarriage," he told the jury.
"He was earning about £300 a day... most of that was going into her bank account, and some... being sent to South Africa so her family could build a house.
"He said she was often violent towards him, he didn't love her any more... and that he'd moved out," Mr Evans said.
"On one job he lifted his shirt and showed me some scratch marks on his back. Some looked like they'd bled and scabbed over. He would say 'look she attacked me'".
In a written statement another colleague, James Sharrod, said Mr van Dongen had asked to borrow a tape measure.
"He told me all his work equipment and clothes were at his girlfriend's place, and he had to leave there straightaway as she had a screw loose... and was violent"
The court was also told Ms Wallace had bought sulphuric acid online and searched for how to get your boyfriend back.
She also made a number of other searches including "can I die from drinking sulphuric acid?".
The trial continues.