Nearly 800 hoax calls made to South West Ambulance Trust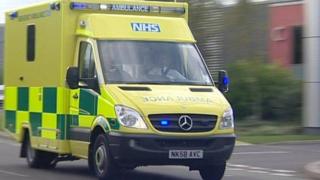 An ambulance service was forced to deal with nearly 800 hoax calls last year.
South Western Ambulance Service Trust (SWAST) was distracted from 91 real emergencies in 2017, a Freedom of Information (FOI) request revealed.
A SWAST spokeswoman urged parents to educate their children about only calling 999 in an emergency.
The figures show that SWAST received 774 hoax calls in 2017. However, the number is low compared to the 900,000 calls the service responds to yearly.
Calls made in good faith which turn out to be unnecessary are not recorded as hoax calls.
A SWAST spokeswoman said: "Making hoax calls can put lives at risk. We strongly encourage parents to impress upon their children the importance of only dialling 999 in a genuine emergency situation.
"It is vital that people understand and appreciate the consequences associated with making hoax calls."
The ambulance service covers the Avon area - including Bristol and Bath - Cornwall and the Isles of Scilly, Devon, Dorset, Somerset, Wiltshire and Gloucestershire.
SWAST's latest report from health watchdog the Care Quality Commission rates the service as requiring improvement with concerns over areas such as mandatory training, cleanliness and infection control.
But the service was praised for its "truly compassionate" caring culture.