Teenager's death: Antipsychotic drug 'properly prescribed'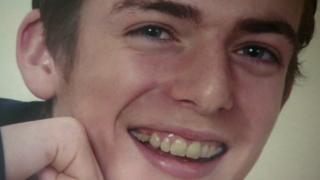 It was appropriate for a teenager to be given the anti-psychotic drug that led to his death, a coroner has said.
Oliver McGowan, 18, from Bristol, had mild autism and epilepsy and was being treated for a seizure at Southmead Hospital in October 2016 when he was given olanzapine to sedate him.
His parents said they pleaded with doctors not to administer the drug because of previous reactions.
An inquest has now ruled it was the right decision in the circumstances.
In a narrative verdict, assistant coroner Dr Peter Harrowing said Mr McGowan died of pneumonia, brain injuries caused by a seizure, and neuroleptic malignant syndrome (NMS).
"The NMS being a rare adverse effect of olanzapine which was properly indicated and prescribed," he said at Avon Coroner's Court.
"The occurrence of NMS could not have been predicted."
Mr McGowan, from Emerson's Green near Bristol, was mildly autistic and suffered from epilepsy and learning difficulties.
The inquest heard his father, Tom McGowan, "repeatedly told paramedics and doctors that on no account was [his son] to be given antipsychotic medication" due to previous reactions.
The drug olanzapine was prescribed on 25 October.
It caused a high temperature, which led to brain swelling and damage so severe that he was not able to make a meaningful recovery, the inquest was told.
Mr McGowan never came out of intensive care and died on 11 November.
Deborah Coles, from lawyers' group Inquest, said the hearing had "shone a light on the over-medication of learning-disabled people, which is a widespread issue that must be addressed to stop yet more preventable deaths".
"It should not be left to grieving families to fight for answers and the necessary scrutiny of systemic failings in the care of learning-disabled people," she said.
"Evidence at the inquest showed that Oliver's family were ignored by professionals responsible for care, a familiar pattern we see in our work on state related deaths."