Acid attack murder trial: Victim 'driven to euthanasia'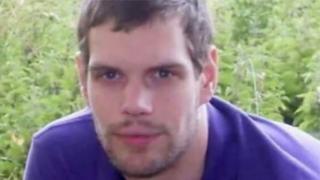 A woman threw acid over her former partner in an attack that left him with such "grotesque" injuries Belgian doctors agreed to end his life.
Berlinah Wallace, 49, is accused of murder and applying a corrosive fluid to Dutch engineer Mark van Dongen in Bristol in 2015.
Mr van Dongen ran screaming into the street in his boxer shorts with "horrific" injuries before being taken to hospital, Bristol Crown Court heard.
Ms Wallace denies both charges.
The attack on 23 September left Mr van Dongen, 29, paralysed from the neck down, unrecognisable and all but blinded, Bristol Crown Court heard.
Ms Wallace allegedly laughed and told him "if I can't have you, no-one else can" before throwing a glass of sulphuric acid into his face.
Prosecutor Adam Vaitilingam QC said the defendant "deliberately threw acid at Mr van Dongen, intending to cause him serious harm".
"She admits throwing it but denies any intent to cause him harm. She says that she believed that what she was throwing over him was a glass of water."
Mr Vaitilingam said Mr van Dongen's "physical and mental suffering" drove him to euthanasia.
"Put simply, he could not bear to live in that condition. If that is right, we say, then she is guilty of murder," he added.
The court was told Mr van Dongen suffered 15 months of pain before being granted euthanasia in Belgium, where it is legal and where his family lives, in January 2017.
"He was examined by three consultants, who confirmed that this was, in their terms, a case of unbearable physical and psychological suffering despite maximum medical support," Mr Vaitilingam added.
"They agreed that the test for euthanasia was met, and on 2 January 2017 they inserted a catheter into his heart, which brought about his immediate death."
'Cruel observation'
The court heard Mr van Dongen and Ms Wallace had been in a five-year relationship but split a few weeks before the alleged attack, with the victim moving in with his new girlfriend Violet Farquharson.
Richard Smith QC, defending Ms Wallace, told jurors it was Mr van Dongen who had poured the sulphuric acid in a glass for her to drink.
"Mark van Dongen might be the author of his own misfortune," he added.
"He planned to make her suffer, not him. If that is right then his plan has gone horrendously wrong."
Mr Smith told the jury that Mr van Dongen and Ms Wallace were physically abusive to each other and had both made claims about abuse from the other.
He added: "In the dark times of this difficult relationship there had been suggestions made to her by Mark van Dongen that she might alleviate her depression by taking sulphuric acid - a rather bizarre and cruel observation."
The case continues.