Doctor 'might have' apologised to mum after son's death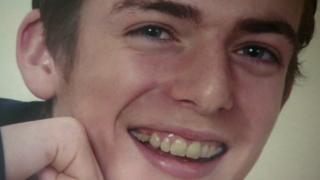 The consultant who gave a teenager anti-psychotic drugs that have been linked to his death said she "might have" apologised to his mother.
Dr Monica Mohan told an inquest she took responsibility for prescribing Olanzapine against the wishes of his parents.
The neuropsychologist admitted the drug was "one of the contributing factors" in the death of Oliver McGowan.
She told Paula McGowan she "might have been right" to warn her about the drug.
Oliver McGowan from Emerson's Green near Bristol was mildly autistic and suffered from epilepsy and learning difficulties.
He died at Bristol's Southmead Hospital in November 2016 after being admitted following a seizure.
'There to help'
The inquest previously heard that Olanzapine likely led to the teenager contracting Neuroleptic Malignant Syndrome (NMS).
This condition caused a high temperature, which led to brain swelling and damage so severe that Oliver was not able to make a meaningful recovery.
Dr Mohan told the hearing that she had prescribed Olanzapine to Oliver on the evening of October 25.
"I was there to help him get better so he had a better quality of life," Dr Mohan said.
"I take responsibility. I prescribed Olanzapine but I don't know that I'm responsible for anything else that happened."
She said she could not have predicted that he would have developed NMS, of which there was a 0.02% chance.
She confirmed that she spoke to Paula McGowan after Oliver's condition deteriorated and was in tears.
She said she "might have" apologised to Mrs McGowan and told her: "You were right all along."
"Mrs McGowan did tell me that Olanzapine might not have been the right agent, or (that it was) wrong to trial so I said: 'You might have been right'," she added.
"Often mother's intuition is pretty good to take into account."
Oliver's parents previously told the court that they were ignored by "arrogant" doctors when they urged medical staff not to prescribe anti-psychotic medication due to previous bad reactions.
The inquest continues.