Side effects of antipsychotic drug 'caused severe damage', doctor says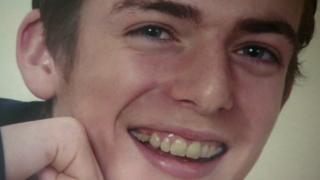 An antipsychotic drug caused a teenager to develop the rare condition which led to his death, an inquest has heard.
Oliver McGowan, 18, from Emerson's Green near Bristol was mildly autistic and suffered from epilepsy and learning difficulties.
He died at Bristol's Southmead Hospital, in November 2016, after being admitted following a seizure.
A consultant neurologist told Avon Coroner's Court that the drug Olanzapine made Oliver's brain swell.
Dr Howard Faulkner, of North Bristol NHS Trust, said Oliver had contracted neuroleptic malignant syndrome (NMS) as a result of the drug - used to treat schizophrenia - being administered in order to sedate him.
The severe side effects, including swelling to the brain and sepsis, meant he would not be able to make a meaningful recovery.
Bad reactions
Oliver's parents previously told the court that they were ignored by "arrogant" doctors when they urged medical staff not to prescribe antipsychotic medication due to previous bad reactions.
"I remember them being concerned about the side effects of antipsychotic medication," said Dr Faulkner.
"I don't recall at any point being asked to stop the Olanzapine," he added.
"My understanding was they accepted he needed to be on it in the short term."
The inquest heard it was Dr Monica Mohan, consultant neuropsychologist, who prescribed the Olanzapine and that Dr Faulkner had understood she had consulted with the McGowans before prescribing it.
The inquest continues.