Boys rescued from Birnbeck Island cut off by tide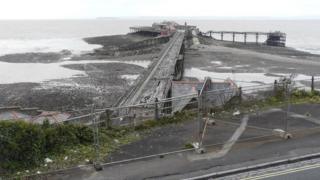 Three teenage boys had to be rescued from an island in the Bristol Channel after being cut off by the tide.
The boys had reached Birnbeck Island, off Weston-super-Mare, on Friday afternoon by walking on an exposed shingle bank when the tide was out.
RNLI volunteers from Weston were called at 14:00 GMT after someone spotted the trio on the island.
Lifeboat helmsman Liam McDermott said the children, who were from the area, "should have known better".
Birnbeck Island is now deserted but was once an entertainment venue, connected to the mainland by a pier, which is now derelict and too dangerous to use.
Mr McDermott said: "The tides round here come up more quickly than one can run.
"We are often having to rescue those who are caught out. By all means enjoy the sea but always be aware of what the tide is doing."