Racegoers behaved like drunken 'pack animals' on train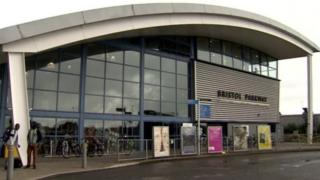 A woman said she was left feeling "vulnerable and isolated" by a group of drunken men "behaving like pack animals" on a train to the Cheltenham Festival.
Rachel Britton, 43, said she boarded an overcrowded train at Bristol Parkway at 09:10 GMT on Friday.
She was surrounded by drunk men in their early-to-mid 30s, one of whom urinated into a bottle in front of her.
CrossCountry said it worked hard to ensure a police presence on trains.
The Cheltenham Festival is an annual meeting in the National Hunt racing calendar that attracts thousands of visitors.
"The men were very loud and boorish," Ms Britton said. "There was lots of swearing and there were no staff or other women in sight. I felt vulnerable and isolated.
"One of the men started talking about needing to go to the toilet, and then in front of me he urinated into a bottle. I was disgusted. It was horrible behaviour but, as the only woman in the carriage, I didn't feel like I could say anything.
"The men behaved like pack animals. They had no regard for the fact that I was a woman on my own in the middle of them all."
She called for more policing on trains when it was known that there would be large crowds of people drinking.
A spokesperson for CrossCountry told the BBC it works closely with the festival organisers, local train operator GWR and the British Transport Police to prepare for this event and provide thousands of extra seats to meet demand.
British Transport Police said it was disappointed to hear about the incident and that everyone has the right to travel without being exposed to this kind of behaviour. They went on to urge anyone witnessing anti-social behaviour on trains to call the police.