Bristol University's plans to scrap wardens in halls revised after protests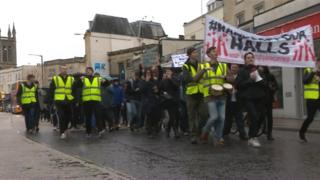 Plans to scrap live-in wardens at student accommodation in Bristol have been revised following protests.
The University of Bristol wanted to replace wardens with non-resident advisers and cut the number of peer-mentoring postgraduates in halls.
Following a backlash, it now plans to boost the number of live-in mentors to 120 from a proposed 54 as well as provide 24/7 access to support.
But students said they "do not want pastoral teams taken out of halls".
The university's halls of residences are based in the city centre, Clifton and Stoke Bishop and house around 7,500 students.
In the past 18 months, seven students have committed suicide.
Professor Hugh Brady, the university's vice-chancellor, said it was "not shying away" from "this wave of mental health issues" challenging its students.
"Of all the issues affecting our student body, mental health is probably the most pressing," he said.
He said the wardens - which were providing pastoral care - "were being asked to do an impossible role" and the university needed to ensure its service could "cope with that challenge".
"We need to evolve and support our students in a very different type of world," he said.
"I think now what we have is a model that makes sense."
But Sarah North, a senior resident, said the 24/7 support service would be "25 minutes away from some halls of residences" and the revised plan was a "shift-based system".
"It relies on students having problems between the hours of seven and midnight - which does not happen in pastoral care," she said.
Tom Phillips, from Keep Our Communities, said the new scheme was "misguided".
"In a recent referendum 92 percent of students said they did not want pastoral teams taken out of halls," he said.
"What have they done, taken pastoral teams out of halls."
The new service is due to be introduced in September.