Bijan Ebrahimi murder: Jailed ex-PC 'made scapegoat'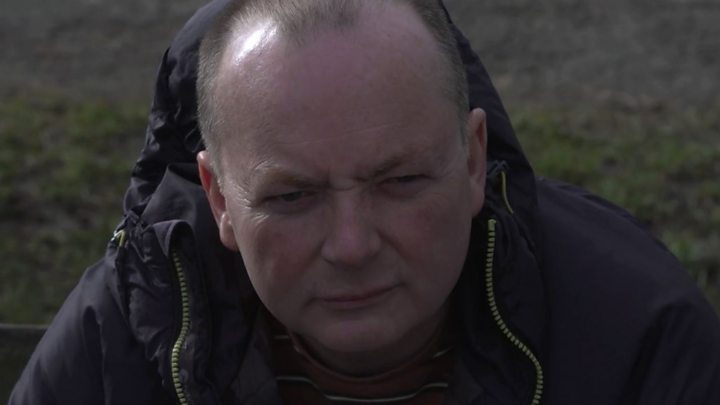 A former police constable jailed over dealings with a refugee who was later murdered says the people prosecuted were those with the least authority.
Kevin Duffy was found guilty of misconduct in public office following the murder of Bijan Ebrahimi in 2013.
His wife Rebecca said he, and jailed ex-PCSO Andrew Passmore, were "basically made to be the scapegoats to take the blame".
Avon and Somerset Police said the case had already been "thoroughly examined".
Speaking to the BBC, Duffy and his wife questioned the prosecution. Mrs Duffy said: "It's never down to the actions of one person."
Duffy was sentenced to 10 months for failing to respond to calls for help by Iranian-born Mr Ebrahimi. He has since been released.
Passmore was jailed for four months.
"The most senior [people] prosecuted were the people with the least authority, who asked for help and advice from their superior ... and acted on that advice," said Duffy.
Mr Ebrahimi was beaten to death outside his Brislington home by neighbour Lee James, after being wrongly labelled a paedophile. James is serving a life sentence for murder.
Before his death, Mr Ebrahimi made repeated reports to police about racist abuse, harassment and threats.
'Regret it forever'
Duffy said he had not responded to Mr Ebrahimi on the night he died, as he was dealing with a separate issue involving people being threatened with a samurai sword.
But in an audio recording of conversations with call handlers discussing Mr Ebrahimi, Duffy can be heard saying: "He's well known to me and I won't be taking any calls from him.
"He's a habitual liar and, basically, I'm considering doing Mr Ebrahimi for harassment if he keeps on calling."
But Duffy insists he investigated every complaint from Mr Ebrahimi and was not guilty of wilful misconduct.
"I will regret it forever that he did die, in appalling circumstances as well," he said.
"It's never out of my thoughts. But also I question myself. Could I have done more?"
---
Timeline of Bijan Ebrahimi case
16 July 2013 - Bijan Ebrahimi is found "in flames" in Brislington. The case is referred to the IPCC
19 September 2013 - The IPCC serves notices of gross misconduct against six police officers
28 November 2013 - Lee James is jailed for life for Mr Ebrahimi's murder. Stephen Norley is sentenced to four years for assisting an offender
21 December 2015 - Kevin Duffy and Andrew Passmore are convicted of misconduct in public office
22 January 2015 - The pair are dismissed from the force
9 February 2016 - Duffy is jailed for 10 months and Passmore for four
3 May 2016 - PCs Helen Harris and Leanne Winter are dismissed from the force
4 July 2017- IPCC finds "conscious or unconscious racial bias" in police handling of the case
18 December 2017- Safer Bristol Partnership finds evidence of discriminatory behaviour and institutional racism
---
A report by the Safer Bristol Partnership concluded that police and Bristol City Council had been institutionally racist in their dealings with Mr Ebrahimi, who had made numerous complaints about his treatment over a number of years.
The chief constable of Avon and Somerset, Andy Marsh, said: "The court has heard what PC Duffy did or didn't do - there has been an opportunity to examine it - I don't want to retry it.
"I accept and acknowledge that policing can sometimes feel like an impossible task.
"My job as chief constable is to make it possible - to give police officers the right equipment, the right leadership, the right systems and the right processes - so they can do the right thing.
"Whether those things were in place when PC Duffy was serving in those terrible days in the lead up to the murder of Bijan - I can say with some confidence that they weren't and that isn't the organisation that I want to lead and I have to say I don't believe it's the sort of organisation I lead today."
Watch the full story on Inside Out West on BBC1 in the West of England on Monday 26 February at 19:30 GMT and afterwards on the BBC iPlayer.