Bristol Arena spend hits £10m after four years of planning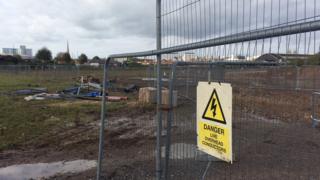 Efforts to kick-start development of a 12,000-seat arena in Bristol have cost almost £10m, according to figures.
Plans for the £92.5m project were approved nearly two years ago, but the city council is yet to decide whether they are good value and worth pursuing.
Since March 2014 about £9,96m has been spent on designers, consultants, lawyers and even a coroner, without a single brick having been laid.
Mayor Marvin Rees said half the costs were incurred before he was elected.
Earlier this month Mr Rees admitted the arena opening date had slipped again to 2020, but he insists he is "absolutely committed" to getting it built.
"Money has to be spent in order to deliver and build an arena for Bristol as a wide range of services are required before construction can begin," he said.
"This is a standard approach for any construction project.
"We are absolutely committed to delivering an arena that the city can afford and to ensure the best value for money we're looking closely at the costs at every stage of the journey."
The authority is also considering a site in Filton as an alternative location to the originally-proposed Arena Island next to Temple Meads railway station.
The publicly-viewable accounts detail the five biggest spends since March 2014 as:
£5,036,793 - Populous (design)
£1m - Bouygues (construction)
£734,411 - AECOM Ltd (consultants)
£657,862 - Buckingham Group (construction)
£572,989 - DWF LLP (lawyers)
Other costs include £34,058 on wildlife research, £1,619 on a music initiative for deaf and disabled people and £1,054 on a coroner.
The figures only include costs that exceed £500.
---
Analysis: Pete Simson, BBC Radio Bristol's political reporter
If you saw Arena Island, which currently resembles a muddy scrubland, you may wonder what on earth has cost £10m.
It was bought and cleared over a decade ago at a cost of £13m, and has a £11.3m bridge-to-nowhere which was paid for by the Homes and Communities Agency.
This project was spearheaded by Bristol's previous mayor George Ferguson, an architect by trade who's described the current delays to the project as "madness" and "idiotic".
Bristol's current mayor Marvin Rees is awaiting the results of a value for money review, due in April, before making a further decision on the future of this beleaguered plan.
---