Bristol Slapstick Festival to show lost Stan Laurel scene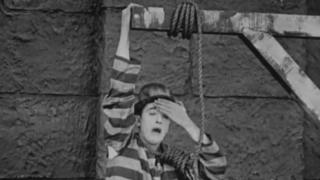 Lost scenes from a film starring comedian Stan Laurel have been found in a Dutch archive and are to be screened for the first time in the UK.
The sequences from Detained, made in 1924, were found by an archivist in the Netherlands and will be shown at Bristol's Slapstick Festival.
Jurjen Enzing, from the Friesian Film Archive, said it was "exciting" to stumble on something "so special".
The film will feature at the festival's Lost and Found event, on Friday.
In it, Laurel plays a prisoner who ends up being hanged. In the missing scene, his neck is stretched out of proportion.
Mr Enzing said he discovered the film when he was looking through 35mm nitrate film footage as part a digitalisation project.
He said: " I was looking through lots of film collected over the past 30 years which had never been seen. The majority of it is from Friesland - mostly Friesian cows, horses and farming from the early 1930s.
"Then I recognised Stan Laurel - but without Oliver Hardy. I was curious, so I went to Google.
"I could see the film was about a prison, and then I came across a book called 'Stan Without Ollie'.
"I saw Detained which mentioned a missing scene in the footnotes and I realised I had seen it in the old nitrate film. For the first time, I thought this might be something special."
He contacted film preservationist Serge Bromberg, from Paris-based Lobster Films, who put together the restored version.
Mr Bromberg said: "Half of the films made in the world are missing today. They have not been stored properly, companies have gone bankrupt, wars, film auto-destruction. So, all in all, it is not rare to find lost films.
"But Detained is a Stan Laurel solo comedy, and about 20 are still missing or incomplete - and it has been years since a discovery of a lost film has happened."
'Gruesomely comic'
Former Times film critic David Robinson said the rediscovery was "exciting".
He said: "It is a very crazy almost surrealist film - about Stan's misadventures when he is mistakenly thrown in gaol, after an escaped prisoner has forced him to switch clothes.
"The scene that was lost is rather gruesomely comic, involving Stan getting himself hanged. Maybe 90 years ago when the film was made, someone - even an official censor? - thought this was a bit too strong."