St Nicholas Church closed since World War Two to reopen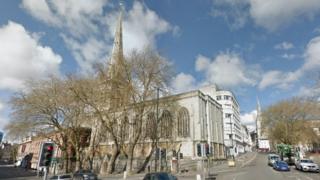 A church that has been closed to congregations since the end of World War Two is to reopen, the Diocese of Bristol has announced.
St Nicholas Church in Bristol city centre was shut in 1953 following bomb damage.
It was leased to Bristol City Council and rebuilt as a museum, tourist information centre and offices.
The diocese bishop said its reopening as a church would help to "bring about social transformation".
Doors will open to new congregations in the autumn, with £3.8m being spent over the next six years to refurbish the church and fund outreach work across Bristol.
The Diocese of Bristol says its aim will be to attract younger generations, as well as looking at ways to tackle homelessness, food poverty and youth unemployment.
"As Bristol becomes younger and more diverse, we want to make an impact on the city," said Rt Revd Dr Lee Rayfield, acting Diocesan Bishop.
"We are excited about how St Nicholas will grow the Church and bring about social transformation.
"This is one way in which we will be developing our commitment to making more disciples, engaging younger generations and connecting with our communities in our changing city."
St Nicholas Church was damaged during the Blitz raids which destroyed Bristol's neighbouring commercial centre.
Still retaining shrapnel marks from the bombing, it hosts a vast altarpiece painted by William Hogarth in 1756.
The triptych, called Sealing of the Tomb, depicts the Ascension, the Sealing of the Sepulchre and the Three Marys at the Tomb. The diocese said the painting would remain visible to the public.
The Church of England is contributing nearly £1.5m through its Strategic Development Funding - a project aimed at opening new churches in deprived urban areas.
A spokeswoman said it was "rare" for a church to be brought back to life after such a long time.