Bristol underground rail 'to be delivered in 10 years'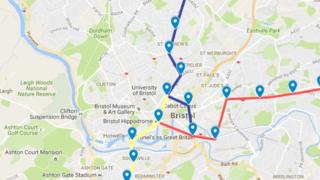 Three underground metro lines will be delivered "within 10 years", Bristol's elected mayor has said.
The routes linking Bristol Airport, Bradley Stoke and Emersons Green to the city centre will cost up to £4bn.
Mayor Marvin Rees said an initial study of the geology of the city indicated it was suitable for tunnelling.
"We're looking at options on trains and tracks that would be laid," Mr Rees said, "the next stage will look at the financial modelling."
Last week he visited China where he proposed the project as a "significant investment opportunity".
"We have no viable mass transit system in the city and we've got to give people a viable alternative to using the car," Mr Rees said.
"Let's get people onto public transport and protect the beautiful surface of our city and go underground as far as possible."
'Slightly sceptical'
Transport consultant, Peter Weston, said over the next 20 years Bristol is set to have another 100,000 houses built and 80,000 new jobs.
"The present systems aren't going to work as they are," he said.
"When you get to the middle of Bristol the roads are such that you can't do anything else at ground level."
But the leader of Bristol City Council's Conservative group, councillor Mark Weston, said: "A couple of months ago we were only talking up to £2.5bn and now the ceiling has gone to £4.5bn and I'm still slightly sceptical here."
---
Analysis: BBC Bristol political reporter Pete Simson
Many Bristolians will tut at these plans, worn down by years of underinvestment in the city's public transport.
But the mayor is deadly serious about a new metro system, which judging by these maps would surely have to go underground in places.
His recent trip to China hoped to garner some financial interest in the project which will cost an eye-watering amount of money and will need government backing.
This is a long game, so don't expect a trip on the "babber line" to Emersons Green anytime soon.
---