Suicide and self-harm prevention app launched in Bristol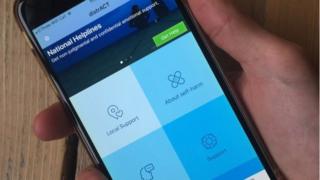 A new app to help people who are considering self-harm or having suicidal thoughts has been launched.
The app, developed in Bristol by social enterprise Expert Self-Care, includes "discreet advice on how to access help in an emergency".
Dr Knut Schroeder, a GP from Expert Self-Care, said: "This app is designed for people when they're at their most vulnerable."
Local Bristol information is available and they aim to expand in other areas.
Dr Schroeder said they had named it distrACT for "two reasons".
He said: "People wanted it to be discreet, so we deliberately didn't use the term 'self-harm'. And distraction from thoughts about self-harm can help people avoid actually going through with it."
He said young people "don't like using computers due to search history" and an app "is totally private and people can literally look things up on the bus".
Student mental health expert and GP Dr Dominique Thompson said: "There's a well-recognised body of evidence showing an increase in self-harm among 16 to 24-year-olds.
"It's so important that people recognise that self-harm should not be dismissed - it is not attention seeking - we really need to break down that myth.
"An app is a safe alternative to put in people's hands. So if they're thinking about self-harm or have self-harmed they can have a resource at their fingertips," she said.
Naomi Salisbury, from charity Self-injury Support, said: "It's something that's discreet, private and you can access at any time and that's what people who contact our services tell us they want.
"I think the app can help because it can help people to understand why they're using self-injury and then they're better equipped to talk to someone in 'real life'."
The app is free to download for iPhone and Android and is certified and approved by the NHS.