Avon and Somerset Police officers sacked for rape voicemail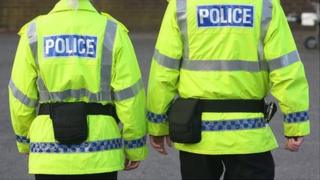 Two police officers have been sacked after they left a message on a woman's answer machine saying they hoped her child "would get raped".
The Avon and Somerset officers left the recording after being called to deal with a "vulnerable child", a misconduct hearing was told.
PC Samuel Dexter and PC Hannah Mayo are heard laughing and saying they did not care what happened to the child.
Both officers admitted gross misconduct and were dismissed without notice.
The hearing on Tuesday at police headquarters was told the child had been reported missing before being found by PC Dexter and reunited with the family.
But a short while later, according to the hearing outcome notice, the child's mother called the police again to report the child was "causing problems at the family home".
'Broken trust'
En-route to the property, PC Dexter and PC Mayo phoned the mother for more information and inadvertently activated the answerphone.
In the recorded message the officers can be heard laughing and saying they had "no interest whatsoever" in the child and both then said they hoped the child would "get raped".
In his verdict at the hearing, Chief Constable Andy Marsh said the comments had "broken the trust" the child's family had in the police.
He said: "[The comments] go way beyond the boundaries that could be described as dark humour.
"I cannot accept the comments were a mistake, they were far more serious than that, and the people we serve will be appalled to hear that police officers spoke in such a way about a child."
'Horrific language'
Ch Insp Mark Edgington, of the professional standards department, said the officers had "failed to treat the child and their family with respect".
"Both officers used appalling and horrific language about a vulnerable missing child and their family," he said.
"There are no excuses for their behaviour and their actions are not reflective of our force or the officers and staff who work extremely hard every day to safeguard and protect vulnerable people."
Both officers have offered "fulsome apologies" to the child and their family.