Congestion charge call for 'cruising coaches' in Bath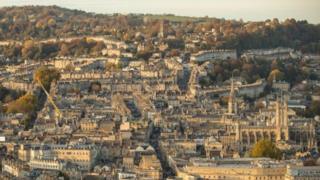 A heritage group has called for 'cruising tourist coaches' in Bath to face a congestion charge.
Bath Preservation Trust claims a new council parking plan will encourage more coaches into the city centre.
Caroline Kay, from the trust, has called for tighter regulations to prevent the vehicles "ruining sensitive historic areas".
Bath and North East Somerset Council said the coach parking plans were part of a wider traffic strategy.
The council has proposed long-stay coach parking on the outskirts of the city, pick-up and drop-off points within the city and limited short-stay coach parking at Green Park and the A4 lay-by.
Cllr Mark Shelford, cabinet minister for transport and environment, said: "We recognise that coach parking is a major issue for many people in Bath, which is why we are proposing some limited short-stay coach parking and getting the majority of coaches out of the city centre to keep Bath moving."
However, Ms Kay said the plans do not go far enough and, in addition to a coach congestion charge, called for more out-of-town parking for big events and better "park and link" options.