Classical stone Bristol Downs bridge wins planning appeal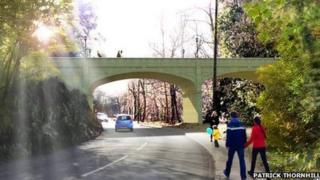 Permission to build a classical stone bridge to access the Downs in Bristol has been granted after a council's decision was overturned.
Plans were approved subject to trees being planted but were later refused when that "could not be ensured".
The bridge over Bridge Valley Road, for pedestrians and cyclists, would complete a missing link in the circular route around the Downs.
The planning inspectorate said it was not necessary to replace lost trees.
Engineer Dr Adrienn Tomor, from the University of the West of England, which proposed the scheme, said the bridge would "reconnect the two parts of the Downs that are currently separated by fast flowing traffic".
She said: "We are excited about developing ideas to involve the local community throughout the construction process and to the challenge of raising funding for the bridge."
A Bristol City Council spokesman said in the first application they had agreed "to support the proposals on the understanding replacement trees would be found, as their removal could damage the character and special interest of the local conservation area".
But the council later refused because the replacement of the trees could not be ensured with the land owner.
'Busy and dangerous'
Jack Penrose, from Friends of the Downs and Avon Gorge said: "Access to the Downs is limited to cars and a poor quality public transport provision.
"Pedestrians ranging from the young to the aged and including the disabled, parents with prams and the disadvantaged are left to try their luck or not go to the Downs at all."
Councillor Clare Campion-Smith, from the Downs Committee, said: "Currently the road junction at the top of Bridge Valley Road is very busy and very dangerous for pedestrians and cyclists.
"It will be good for local residents and visitors alike."