Mother Jessica Bruce 'sets double buggy marathon record'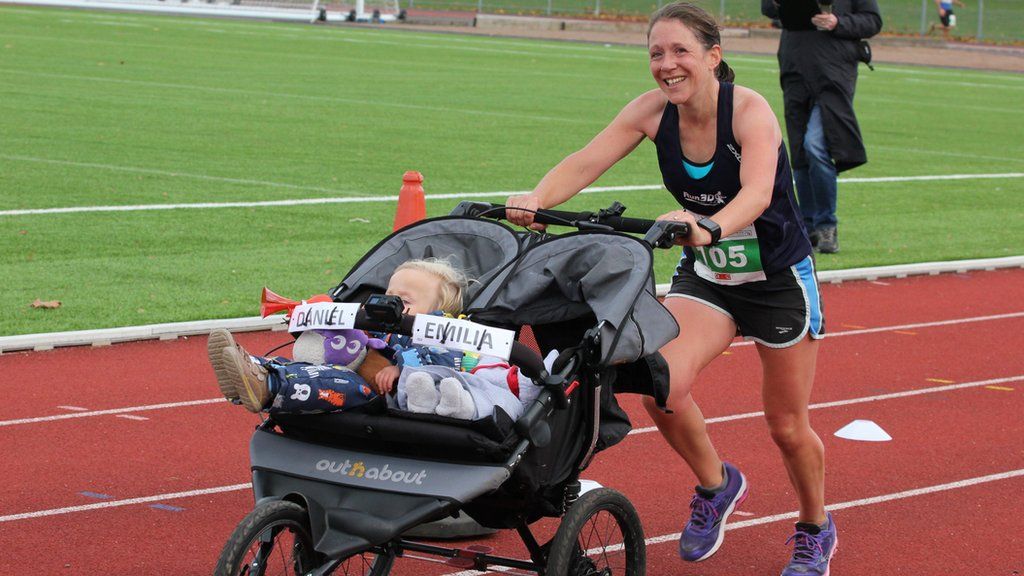 A mother-of-two is claiming a new world record for running a marathon while pushing a double buggy.
Jessica Bruce, who lives in Bristol, ran the Abingdon Marathon with her two children in a double pushchair in three hours, 22 minutes and five seconds.
Guinness World Records set her a minimum of four hours 30 minutes in the race for pushing a double pram (female) as there is no current record holder.
A Guinness World Records spokeswoman said they were "looking forward to receiving evidence from Jessica", following the race on Sunday.
Two years ago, Ms Bruce from Hambrook set a world record for running the same race pushing her then seven-month-old son Daniel in a pram.
Since then she has had a second child Emilia, and has now tackled the course with both children in a "very specific running buggy".
"It's huge with really big wheels and full-on suspension and with the two of them in the buggy I'm pushing about 30kgs," Ms Bruce said.
"Hills are particularly difficult, downs are a bit easier and we tend to go faster there but flats and any kind of incline really hurt."
Despite the wind being against runners, the family managed to come in 272nd out of 751 runners finishing the course.
"It was like pushing this huge machine into a headwind but we managed to keep going," she said.
"The last few hours really hurt but I was fairly confident we would be able to do about three hours 45 minutes so it was better then I thought."
As for Daniel and six-month-old Emilia, Ms Bruce said they had been "perfect" with no emergency stops for nappy changes or bottle feeds.
"It's a long time in the seat [for the children] but there's so much going on and they absolutely love it," she said.
"We got them up at five o'clock and poor Daniel was sleeping before the race even started, so they slept for the majority of it."
Related Internet Links
The BBC is not responsible for the content of external sites.