Fault delays new high-speed train's first journey from Bristol to London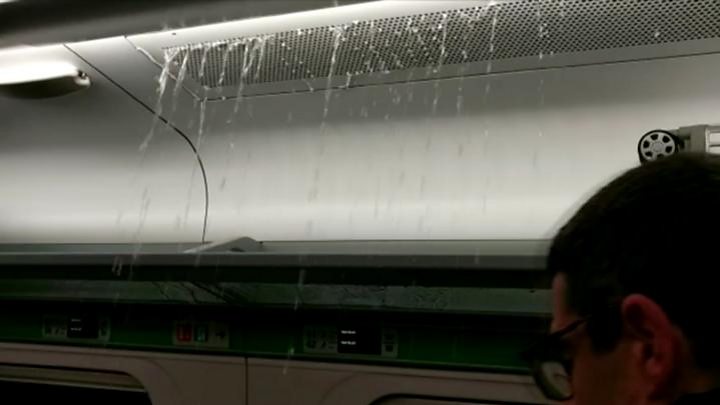 Broken air conditioning and a 41-minute delay have overshadowed the launch of the UK's new fleet of high-speed trains.
The Hitachi 800 engine will be faster and carry more passengers and will run on GWR for the next 27 years.
But passengers on the first Bristol to London service arrived late and some had to dodge drips as water leaked from an air conditioning unit.
Hitachi said the delay was due to a "minor technical issue".
Things you wanted to know about the Hitachi 800
Karen Boswell, the managing director of Hitachi Rail Europe, said "an air conditioning issue" had resulted in water entering the carriage rather than being discharged outside.
"I want to say to passengers that we are really sorry that the first service from Bristol didn't go as planned today," she said.
"I was actually on the train and the delay and water leak meant that it was not the standard of service we expect and are known for. We can and will do better."
The fleet of intercity trains was designed to be electric, but due to delays in electrification of the line engines will also be fitted with diesel power.
The service was supposed to leave Bristol Temple Meads at 06:00 BST but got under way at 06:25 and finally arrived at Paddington 41 minutes late.
The air conditioning had to be turned off after the leak was spotted.
A Hitachi Rail Europe spokesman said: "There was a minor technical issue just before the train left the depot which engineers were able to fix, but meant the train was late leaving Bristol."
He said the air conditioning was a separate issue and the train had been taken to the London depot to be fixed.
Great Western Railway and Network Rail have installed overhead cables for the electric trains, that will eventually replace Intercity 125s completely.
Due to budget cuts and delays, electrification has fallen short of the Bristol rail section so far.
It means the trains will run on diesel from Maidenhead to Bristol.
The problems prompted complaints on social media by passengers.
The Department for Transport says the new trains will cut journey times, increase the number of seats and services, and be more comfortable.
Transport Secretary Chris Grayling, who was on the first service, says the new trains will be "transformational" for people from Bristol.
He said: "These are the smartest trains in the country, probably the best we have ever had in the country.
"This going to be a fantastic service, really regular trains and far more capacity."
Hitachi said the longer carriages provided much more space and comfort for passengers.