Bristol boy who died 'did not have meningococcal infection'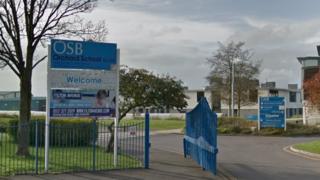 A boy who died in hospital in Bristol did not have meningococcal meningitis, Public Health England (PHE) has confirmed.
It was suspected the boy, who died at the weekend, had contracted that form of the disease, which would have required checks on those who had been in close contact with him.
He was in Year 11 at Orchard School in Bristol.
PHE said that after completing its tests, there was "no need for any public health action to be taken at the school".
'Cases under review'
"Although the results are negative for meningococcal infection, it is important that students and parents remain vigilant to the signs and symptoms of meningitis and septicaemia," said Thara Raj, a consultant for PHE South West.
"We would like to assure the public that PHE investigates every suspected case of meningococcal infection and we keep the number of confirmed cases under review."
Friends and family of the boy who had been in close contact with him had been given antibiotics as a precaution before the results of the tests were known.
The boy's death came after two students at Bristol's St Brendan's Sixth Form College died from from meningitis within the last year.
Contact GP
But Ms Raj said: "The number of confirmed cases of meningococcal infection since January 2017 is no greater than we'd expect to see across the city as a whole."
She urged anyone "feeling unusually unwell, and displaying the symptoms of meningitis or septicaemia" to contact their GP or call 111.
And young people, up to the age of 25, who are starting college or university this autumn are encouraged to get vaccinated against meningitis and septicaemia.
Correction December 2017: This report has been amended to make clear that only one strain of the disease - meningococcal meningitis - was ruled out by Public Health England.