Boy dies in Bristol hospital from suspected meningitis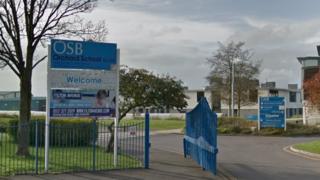 A boy has died in hospital in Bristol from suspected meningitis.
The boy was in Year 11 at Orchard School in the city and died at the weekend, its head teacher said.
Public Health England (PHE) said it was "working closely" with Bristol City Council and University Hospitals Bristol following the death.
A PHE spokesman said there were no known links to two other recent meningitis deaths at St Brendan's Sixth Form college in the city.
The school's head teacher, Julia Hinchliffe, said he would be "greatly missed".
"This student was a fantastic role model, a high achieving young man, who was held in high regard by all pupils and staff," she said
'Precautionary measures'
A PHE spokesman said that based on some of the symptoms, its Health Protection Team was treating the case as a "probable meningococcal infection".
"This has not been confirmed yet but antibiotics have been arranged for close contacts of the case as a precaution."
Thara Raj, consultant for PHE South West, said: "We are very sad to hear about the death of the student and our thoughts are with their family, friends and the school community at this difficult time.
"We understand that there will be concern among students, staff and parents following this death, and we are following national guidelines in implementing precautionary control measures with close household contacts."