Churngold Recycling bosses sentenced over toxic waste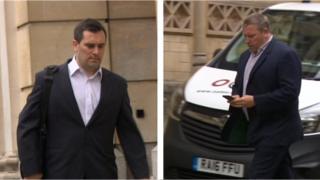 Two former directors of a recycling firm have been given suspended jail terms after storing more than 30,000 tonnes of hazardous waste incorrectly.
Lee Phelan, from Andover, and John Barcham, from Clevedon, breached the 6,000 tonnes licence at the Churngold Recycling site in Hallen.
The company was fined more than £20,000 following an investigation by the Environment Agency.
The Bristol Crown Court judge said they had "flagrant disregard" for the law.
But Judge James Patrick QC said he "did not think they were motivated by profit, rather the company didn't know what it was doing" and "was trying to run before it could walk".
The waste included asbestos, lead and other heavy metals and was used in the foundations of a Co-op supermarket distribution centre at Avonmouth in 2011.
The judge said Phelan, 41, and Barcham, 50, had failed to store the waste correctly and that stockpiles of lime had had a serious effect on the health of employees.
A Churngold Recycling employee alerted the Environment Agency, which triggered a five-year investigation costing £2m.
Adrian Evans, from the agency, said: "What price can you put on the environment?
"Churngold Recycling Ltd had a culture where commercial gain was given priority over environmental protection.
"We hope this prosecution sends out a strong deterrent message to others who flout the law."
Phelan was given an eight-month suspended jail term and Barcham a six-month suspended sentence. Both men were ordered to carry out unpaid work.
Churngold Recycling Limited has since changed its name to South West Recycling Ltd.