Portishead shooting: Dead man named as Spencer Ashworth, 29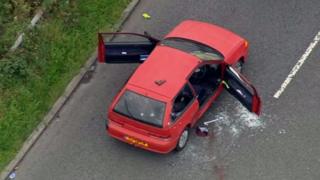 A man who was shot dead by police near Bristol last week has been named.
He was 29-year-old Spencer Ashworth, whose last known address was in Portishead, the Independent Police Complaints Commission (IPCC) said.
Officers opened fire on a car on the A369 Portbury Hundred near junction 19 of the M5 on Wednesday morning.
The IPCC said information indicated officers had responded to a report of a man travelling on the M5 with a handgun who had threatened another motorist.
A commission spokesman said it had also been informed of an earlier incident in which a similar report was received by West Mercia Police.
Authorised firearms officers from Avon and Somerset Police were involved, and a number of shots were fired by four officers. A non-police issue firearm found at the scene was undergoing ballistics and forensic tests.
A post-mortem examination showed Mr Ashworth died from gunshot injuries.
The IPCC said it would not now be investigating Gloucestershire Police or West Mercia Police after the forces referred themselves to the organisation over how they dealt with information received from a member of the public before the incident.