M5 crash: Liverpool family killed on motorway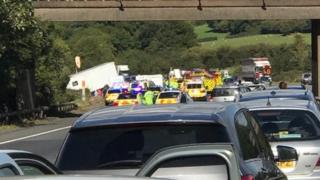 Three people who died in a quadruple fatal crash on the M5 near Bristol were family members, police said.
Richard Henry Evans, 66 - known as Harry - his wife Elaine, 62, and her mother 84-year-old Audrey Hodge were from the Liverpool area, officers said.
A van travelling south on 16 September crashed through barriers and hit two northbound cars, including the family's Subaru Forester.
Avon and Somerset police said formal identification was still to take place.
The fourth victim was previously named as 46-year-old Adrian Beaumont, from Bristol.
Mr Beaumont was driving a Seat Leon, with his 42-year-old partner and their two children, aged 12 and 10.
Police said his partner remained in a critical condition in hospital and his two children were in a stable condition.
The crash happened at about 14:30 BST between J15 and 14 northbound.