Portishead shooting: Gun threat was reported before driver shot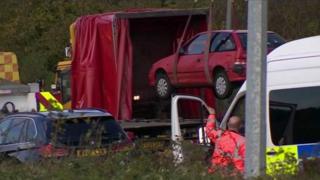 A motorist who died in an armed police shooting near the M5 in Bristol had pointed a gun at another driver in the Midlands, police have confirmed.
Officers fired at a car on the Portbury Hundred (A369) near junction 19 for Portishead at about 09:30 BST on Wednesday, an eyewitness told the BBC.
West Mercia Police said it received a report about a driver with a gun on the M5 in Worcestershire at about 08:30.
The police watchdog is investigating the shooting.
Latest updates on this and other stories from the West of England
West Mercia Police said it received the tip-off about the suspect when he was close to junction eight, near to Strensham services and the M50 junction.
Police have confirmed a man was shot just off the M5 and close to Gordano services an hour later.
A spokesperson for West Mercia Police said the tip-off was "passed on to the central motorway police group" and also to the Independent Police Complaints Commission (IPCC).
Avon and Somerset Police said it had referred the shooting to the IPCC, which has launched an investigation.
"We have been advised that officers were responding to reports of a man travelling on the M5 with a handgun and that he had threatened another motorist," an IPCC spokesman said.
"What appears to be a non-police issue firearm was found at the scene and will also be subject to examination."
He added inquiries were continuing to formally identify the deceased and his next of kin. A post-mortem examination is due to take place on Thursday.
David Ellison told BBC Radio Bristol he saw officers fire between six and 10 shots through the passenger window using handguns.
"They surrounded it. They shot maybe five, six or 10 times," he said.
"Then they dragged a man from the car to resuscitate him.
"It came off the roundabout towards Portishead and then was boxed in by cars."
A police spokesman said the shooting was not terror-related.
"We received calls from concerned members of the public travelling on the M5 who reported they had seen a man in a car with a handgun," he added.
"The vehicle left the motorway at junction 19 and officers stopped the car on the A369 known as the Portbury Hundred.
"Shots were subsequently fired in an incident involving police firearms and a man has died."
The Great Western Air Ambulance's critical care team also attended.
The Portbury Hundred links the M5 motorway to the town of Portishead, to the west of Bristol.
Diversions were in place overnight but the IPCC said it has now finished its examination and the road has been re-opened.