Portishead shooting: Man dies after police surround car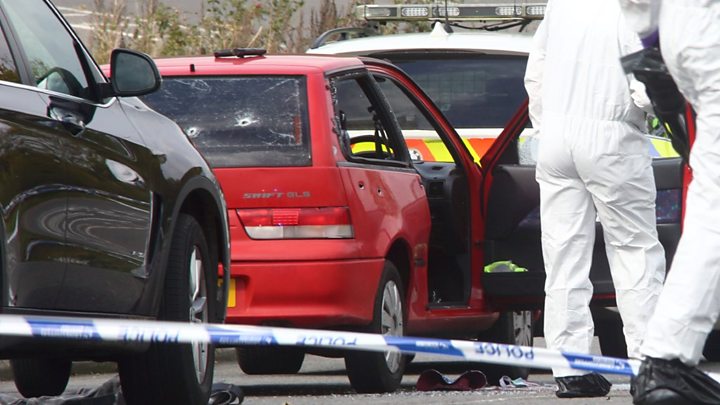 A man has died in a shooting involving armed police at a junction of the M5 motorway near Bristol.
Officers fired shots at a car on the Portbury Hundred (A369) near junction 19 for Portishead at about 09:30 BST, an eyewitness told the BBC.
Avon and Somerset Police said it acted following reports of a man in a car with a handgun.
The Independent Police Complaints Commission said there were reports "he had threatened another motorist".
A police spokesman said: "Earlier this morning we received calls from concerned members of the public travelling on the M5 who reported they had seen a man in a car with a handgun.
"The vehicle left the motorway at junction 19 and officers stopped the car on the A369 known as the Portbury Hundred.
"Shots were subsequently fired in an incident involving police firearms and a man has died.
"We referred the incident to the IPCC: they're now on the scene carrying out an independent investigation which we are supporting."
The road will remain closed overnight whilst investigations continue.
'Number of witnesses'
The force added it was not terror-related.
An IPCC spokesman confirmed it had launched an investigation and said its teams have been at the scene gathering evidence.
"We have been advised that officers were responding to reports of a man travelling on the M5 with a handgun and that he had threatened another motorist," he said.
"What appears to be a non-police issue firearm was found at the scene and will also be subject to examination."
He added inquiries were continuing to formally identify the deceased and his next of kin. A post mortem is due to take place on Thursday.
IPCC Commissioner Cindy Butts: "At this stage we are currently investigating the circumstances of the incident and no individual police officer is under investigation.
"There would have been a large number of witnesses, given this incident took place on a busy road during rush hour. We would ask that anyone with information that may assist our independent investigation make contact with our investigators."
---
At the scene: BBC reporter Jon Kay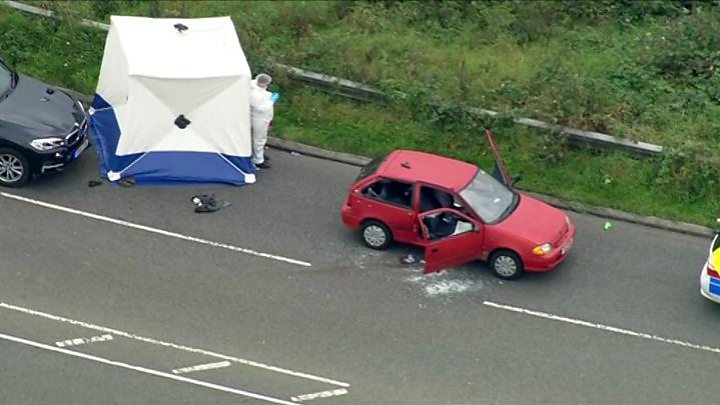 Forensic officers in white protective suits are scouring every inch of the car and road surface.
An object on the roof of the red car looks like a handgun to the naked eye.
There are bullet holes in the windows and shards of shattered glass on the tarmac below. The driver's door is open.
This afternoon police erected a large privacy barrier across the end of the road and extended the cordon around the scene.
A large blue police tent has been carried in and installed next to the car.
---
David Ellison told BBC Radio Bristol he saw officers fire between six and 10 shots through the passenger window using handguns.
"They surrounded it. They shot maybe five, six or 10 times," he said.
"Then they dragged a man from the car to resuscitate him.
"It came off the roundabout towards Portishead and then was boxed in by cars."
Lisa Fussell told the BBC she had been driving along the Portbury Hundred when she came across a scene of "chaos" involving two unmarked police cars and "five or six officers dressed all in black".
"The air ambulance landed in front of us. The medics got out and ran to a red car. It looked like someone had been taken ill," she said.
"It frightened us and it's upsetting now that we know he's been killed. He was someone's son."
The Great Western Air Ambulance's critical care team also attended.
The Portbury Hundred links the M5 motorway to the town of Portishead, to the west of Bristol.
Diversions are in place and police have advised drivers to plan ahead and use alternative routes.