Bristol mayor 'must act' on council's management crisis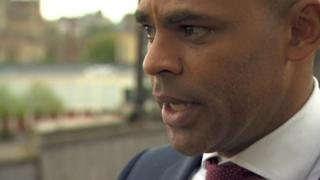 Bristol's elected mayor has been urged to "make decisions" and solve what has been described as a crisis in management at the city council.
Cross-party scrutiny board members say 14 posts are being filled with costly interim contracts and flagship projects are languishing.
They said mayor Marvin Rees had to come up with plans to fill the posts.
The council says it is reviewing its management structure and said vacancies were normal at a time of transition.
Labour mayor Mr Rees, who was elected in May 2016, told the BBC he would comment after next week's cabinet meeting.
The scrutiny committee said the Bristol Arena project was one which was being affected by the staffing issues after all three senior managers dealing with it had left, leaving no-one in charge.
It has now called for an audit of the number of vacancies, a strategy on how to fill them and the terms and conditions in place for interim contracts.
Committee chairman Geoff Gollop said: "This isn't about trying to point blame."
High number of departures
He added: "It's a time when we need proper management in place, we need to clearly know how many vacancies and temporary appointments and what plan will be put in place to fulfil those roles.
"If we can't pay the going rate to recruit staff then we have to have to approach how those jobs are going to be done."
Mr Gollop said they could not "keep sharing out people's work with existing members of staff, there really is a danger of stretching individuals too far".
The board has also called for better planning of the cabinet meetings and asked for reports being submitted on time by officers.
A council spokesman added: "Over the last year or so we have had a relatively high number of departures from our management team.
"This has been for a variety of reasons including retirement, career development and the conclusion of interim or fixed-term posts."
In February, the Bundred report highlighted senior council officers deliberately misleading cabinet members and an unhealthy management culture.
The report also said some issues were inherited from the previous mayor George Ferguson, where savings were not rigorously made.