Gender neutral school wins LGBT equality award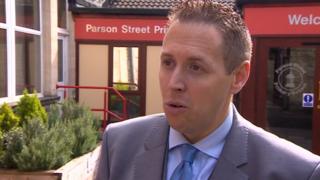 A school which introduced a gender neutral uniform policy has won an award from an education charity.
Parson Street Primary School in Bristol was recognised for its work to promote LGBT equality.
Despite some reservations, the school said no child had been withdrawn from classes by parents.
Head teacher Jamie Barry said pupils needed to "grow up in a culture of acceptance".
The school is the first in the city whose work to promote equality and diversity has been rewarded by Educate and Celebrate.
As well as introducing the uniform policy, toilets have been made unisex and books celebrating equality are included in the library.
The school, whose uniform policy allows boys to wear skirts, has insisted it is not telling children how to think.
Mr Barry said he was simply telling pupils "you should challenge discrimination if you find it".
"We don't believe people should be defined by a particular gender," he added.
"We want to create a culture of acceptance."
Educate and Celebrate CEO Dr Elly Barnes said 150 schools across the country had received the best practice award.
She said the organisation "aimed to eradicate sexism, homophobia and transphobia" and "smash stereotypical views of gender".
The school said reservations among parents had been mitigated by "involving them as much as possible" so they understood what was being done and why.
Stephanie Akinbulumo, a teacher at Parson Street Primary, said: "We want pupils to leave with a sense of empowerment that you can do anything, no matter who you are."