Bristol Jacobean ceiling 'destroyed before listings visit'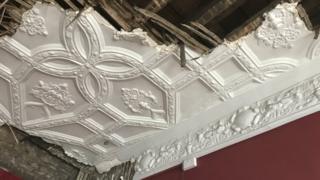 A 400-year-old ceiling was demolished a day before an inspection by historic listings officers, it has been claimed.
The elaborate Jacobean fresco was inside a former town house in Small Street, Bristol, which is set to be turned into student flats.
Historic England (HE) said it received an urgent listing request last week but the ceiling was "deliberately removed" before it could be assessed.
The owner of the building has yet to respond to requests for comment.
An HE spokeswoman said the developers had been "legally within their rights" to remove the ceiling.
'Mutilation'
"We understand a significant amount of the elaborate Jacobean ceiling was deliberately removed and destroyed yesterday, before we were able to see inside the building," a spokeswoman said.
"We are continuing with the listing assessment but are saddened that this important 400-year-old feature has been lost for future generations."
It said the owners were notified the building was being assessed for listed status a week ago.
An application to convert the property into five student flats was received by the planning department in June.
Bristol City Council said it was "disappointed" by the reports but under national planning legislation it has "no powers to stop this kind of damage" if the building is not listed.
"We are continuing to process the owner's planning application alongside Historic England who are reassessing the building's status."
Mike Fox, from Save Britain's Heritage, said it was "appalled at the mutilation" and is calling for "interim protection" for buildings being assessed.
"We strongly encourage Bristol City Council and Historic England to pursue all available means to have it reconstructed and to reprimanded those responsible," he said.
Listed buildings are deemed to have special historic or architectural interest and are protected as a result.
Once listed status is given, owners must apply to make any changes which may affect a property's special interest.