Bristol tower block has similar cladding to Grenfell Tower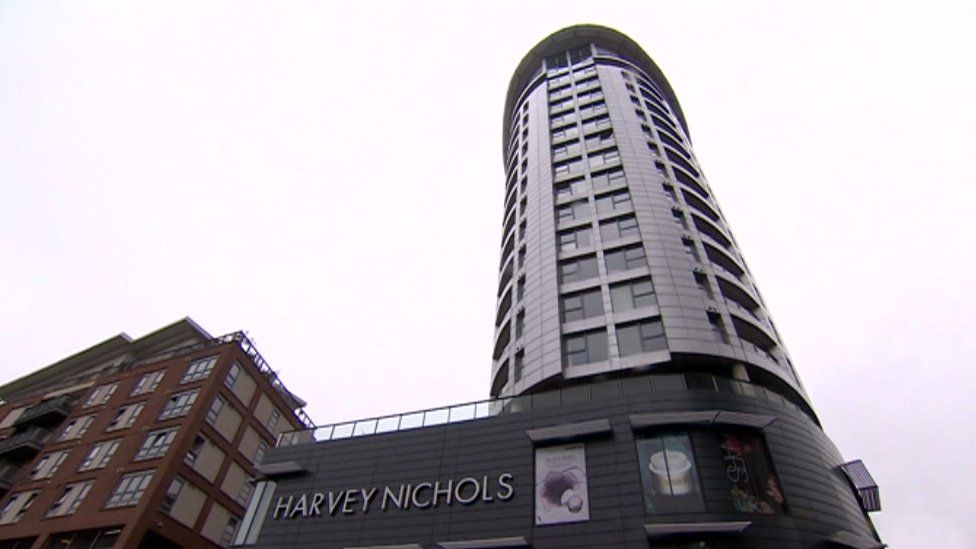 A tower block in Bristol has similar cladding to the Grenfell Tower block in London, the BBC has learned.
Avon Fire and Rescue Service confirmed the privately-owned Eclipse Tower in Cabot Circus uses aluminium composite material (ACM).
It is also understood to have a polyethylene (PE) core, the same combination as at Grenfell Tower.
Extra patrols have been introduced as a precaution and residents have been told not to have barbecues on balconies.
A spokesman said the building, which houses luxury flats, was considered "low risk" following safety checks.
The information came to light following a Freedom of Information request by the BBC to the fire service.
The tower's owner, the Bristol Alliance, said it was working with the Department for Communities and Local Government (DCLG) to "implement a safe and efficient solution for the building following additional testing results".
It said: "Inspections of existing fire safety systems by independent third party experts have confirmed that the correct safety systems and standards are in place."
The company added that additional measures, including regular patrols and dedicated fire watch CCTV cameras had been introduced.
"The additional mitigation measures we have taken mean that the building is considered low risk by the relevant authorities," it said.
"In line with guidance from DCLG, professional advice has been sought on remedial action and we await the outcome of this report."
Residents received a letter containing advice on how fires can be prevented, including switching off electrical appliances at night, getting wiring tested regularly and not having barbecues on the balcony.
It was already known that no local authority-owned tower blocks in Bristol have ACM cladding but it had been identified at Waverley House in the city, which is used as student accommodation.
That cladding is currently being removed "as a precautionary measure" said a spokeswoman for building owners Unite Students.
At least 80 people were killed in the blaze at Grenfell in west London on 14 June.
Related Internet Links
The BBC is not responsible for the content of external sites.