Lead roof stolen from Penny Brohn cancer charity's folly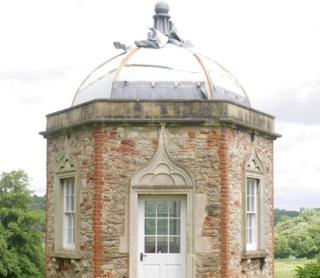 Thieves have stripped the lead from the roof of a building belonging to a cancer charity.
Penny Brohn UK, in Pill near Bristol, said it may now have to find £4,000 to repair and replace the roof of the "historic folly".
Charity manager Andrew Hufford said they were "devastated" that "some heartless people are shameless enough to deprive a charity".
Anyone with information is asked to contact Avon and Somerset Police.
'Distraught clients'
Mr Hufford said the charity "needed £5,895 a day for centre core service costs" but may have to pay for the £4,000 replacement.
"Clients who attend our free services are also distraught - they find the folly therapeutic in coming to terms with cancer, often sitting in and near it to relax, but, for the short-term, we must seal off the area," he said.
He said they had launched a fundraising campaign ahead of a planned open day on 18 June.