Hundreds at education cuts protest in Bristol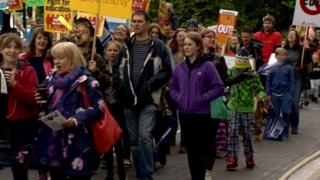 More than 1,000 people have marched through Bristol calling for an end to education cuts.
The protesters, including parents, teachers and children, set off from College Green in the city centre just after 11:00 BST.
Many chanted "No ifs, no buts - no education cuts" as they marched.
The protest was in response to fears that reduced funding will lead to fewer teaching staff, bigger classes and less subject choice for children.
William Brown, from the National Union of Teachers, said the fears were "already being realised".
"Teachers are being laid off, support staff are being made redundant, subject choices are being cut back, school trips are going - it's already happening," he said.
"Being told record levels of funding is going to schools is an inadequate response - it doesn't reflect the reality on the ground."
A Depart for Education (DfE) spokeswoman said it could not comment because of the impending general election.
But in a statement in March, the DfE said the government had "protected the core schools budget in real terms since 2010" but it recognised that "schools are facing cost pressures".
Ahead of the election, the three main political parties are all promising more money for schools.
Some people taking part in the demonstration later contacted the BBC to say that up to 6,000 protestors had been involved.
However, BBC journalists who were covering the march said the figure was much closer to 1,000.
Avon and Somerset Police said it did not give estimates of the numbers of demonstrators.