England rugby stars Mako and Billy Vunipola coach Thornbury's under-10s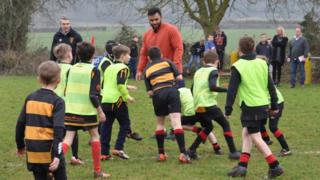 Two international rugby stars have returned to their home club to help coach an under-10s team and to watch the first XV in action.
Prop Mako Vunipola, 25, and 23-year-old brother Billy, started their careers at Thornbury Rugby Club.
Both have become England regulars since joining Saracens, with Mako winning 29 international caps and Billy 23.
They were both junior members at the club on the outskirts of Bristol in South Gloucestershire.
Roy Black, who was chairman of Thornbury RFC at the time, said they were "big lads" when they were 11 or 12 and caused the opposition "a lot of problems"
"If you saw them in Thornbury and they were walking to the club or to school they'd always have a rugby ball in their hand and throwing it from one side of the road to the other over the traffic," he said.
Mr Black also recounted the time when Lloyd Spacey, their PE teacher at nearby Castle School, was knocked to the ground by Mako after asking him "did he play rugby".
"Mako grunted 'yes', so Lloyd picked up a tackle bag and Mako ran straight through him when he was about 13," Mr Black said.