Little Britain star Matt Lucas awarded honorary degree by Bristol University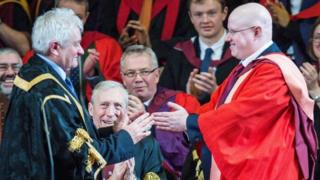 TV comedy star Matt Lucas has been awarded an honorary degree by his former university.
The actor studied Theatre, Film and Television at Bristol University in 1993 but did not complete the course.
He took a year long sabbatical to join television show Shooting Stars and did not return.
After high-fiving the chancellor, he said comedy partner David Walliams, also a university alumnus, would be fuming.
He and Walliams later wrote comedy sketch show Little Britain which became a huge hit.
After being awarded the honorary degree, Lucas high-fived university chancellor Sir Paul Nurse.
He said: "I stand here before you in receipt of this great tribute. You fools."
He said he quickly realised he had enrolled on a "serious course" but while other students found and challenged themselves, he just "walked up and down nearby Whiteladies Road with a cough".
"I was also just generally useless at university life. I had few friends and rarely left my room, unless it was to go and cook something in the kitchen.
"Today, you bring the entire university honours system into question by celebrating a charlatan who left university a year early in 1995, when most of this year's graduates were still in nappies, so that he could indeed wear a romper suit of his own, appear in a Cadbury Creme Egg advert and then do a sketch show with his friend," he said.