M32 crash: 'Unstable load on lorry killed widow'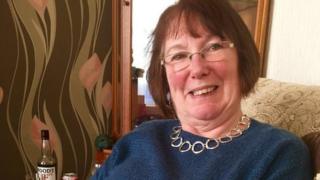 A woman was killed when a poorly-loaded HGV carrying cardboard fell on to her car at a roundabout linking two motorways near Bristol.
Lorraine McKeag, 60, was crushed by the impact and was unable to breathe.
The inquest heard "little care" had been taken when cardboard was put into the metal cargo container on the lorry.
The coroner concluded Ms McKeag died in a road traffic collision in January 2015, which happened due to the way lorry was loaded.
The crash happened on the M32 where it links with the M4.
Paramedics were called at 10:40 GMT, but the retired librarian was not pronounced dead until 15:00 GMT after the container was lifted off her car.
'Jigsaw puzzle'
The lorry driver, Adrian Duff, suffered minor injuries.
Ian Jefferies, a forklift truck driver who worked for Graphic Packaging, loaded the container with pallets of waste cardboard.
He said the pallets were often different sizes, shapes and weights and fitting them into a container was "a bit like a jigsaw puzzle".
Mr Jefferies said he believed he had packed them well but had received no training or guidance on loading.
PC Richard Nutall said he found gaps between the cardboard stacks which meant they could move around and many stacks were only secured with a single band.
He said the major reason for the accident was due to the way the lorry was loaded.
An expert report also found the loading to be of a low standard, with "little care" taken.
The company said changes had been made since the accident and it no longer loaded pallets.
Coroner Maria Voisin said the changes satisfied her that a prevention of future death report did not need to be made.