Taskforce set up at University of Bristol to tackle racism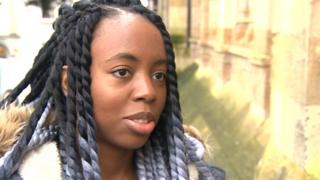 Bristol University is setting up a taskforce with mayor Marvin Rees to tackle racism after more students said they had been racially abused.
Last month two black students, Timi Ariyo and Tami Sotire, described how students racially abused them and taunted Mr Ariyo with monkey chants.
On Tuesday, student Kelly Emelle said a group of men, possibly other students, had shouted monkey chants at her.
The university said its vice-chancellor would lead the taskforce.
"There is no place for racism at this university," a spokeswoman said.
"We need to look at the way at which students feel able to come forward and report these instances, and what more we can do to promote an open and inclusive campus which is what we aspire to.
"We are seeking advice from Sari and BME Voice, and our vice chancellor has been speaking to the city's mayor."
She added that Marvin Rees had offered to lead a taskforce with the vice-chancellor "to help us inform our thinking".
Mr Ariyo spoke out after a video about him containing abusive singing and monkey noises was posted on Snapchat.
Tami Sotire said she had initially been scared to report abuse directed at her on social media for fear the group would "become more angry".
However, both Ms Sotire and Mr Ariyo have since decided to report it officially.
Another former student, Eno Mfon, who has come forward since, said her problems began during her first week at university.
"I just wasn't used to it, the first thing you see when you see me, is my race... the main reason why I didn't report it is because I'd heard so many stories of people at university that have had similar situations."