Shocking pictures of elderly Bristol mugging victim released by police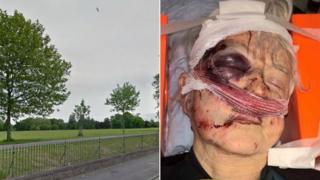 Shocking images of an elderly woman who was mugged in a park have been released by the police.
The 75-year-old was attacked as she walked in Eastville Park in Fishponds, Bristol, at around midday on Monday.
Police, who described the attack as "despicable", said the woman was pushed to the ground from behind before having her handbag snatched.
She was taken to hospital, suffering from a fractured cheek bone and collar bone.
'Shock and enrage'
PC Aaron Ashford described it as a "despicable crime" carried out on an "elderly woman in a public place".
"I am certain this incident will shock and enrage members of our community," he said.
"We now need your help to trace the offender and bring them to justice."